August 2, 2022
More Massive Baha'i Persecutions in Iran By the Clergy with Orders from the Top of this Government.
Iranian agents have sealed off the village of Roushankouh in the province of Mazandarin in their latest wave of persecution they have confiscated property and bulldozed the houses of Bahai's living there.
Access to the village has been restricted and reporters questioning agents about the operation have been arrested. The village has been a refuge for Baha'is where they have been farming and supporting each other in their trades.
                          ________
More as the Islamic Clergy in Iran increase their Persecution of the Baha'i
Incredibly Mahvash Sabet, Fariba Kamalbadi, and Afif Naimi who have already been sentenced and spent 10 years in prison have been detained again! They were released earlier this year. The world needs to take notice and speak out against this unlawful arrest of the innocent Bahai's in Iran. These are citizens who just want to live in peace and be free to practice their Faith. They have not broken any laws nor have they taken any action to protest their own incarceration.
Bahai's in Iran are not permitted to attend university, their business are forced to close. They are not even permitted to bury their dead. The corrupt Islamic clergy confiscate any meager sums of money the Bahai's possess and use the money for their own selfish use. In the past few weeks 44 more innocent Bahai's have been arrested under false charges. Many disappear into the prison system and their families are not informed of the whereabouts nor are the the prisoners given any medications. Anyone going to the prison to search for their loved one are also unlawfully arrested and detained!
                                                                 __________________________
Father Suffers Heart Attack as Baha'i Daughter is Taken Away by members of Intelligence Agency in Iran!
Source: iranwire.com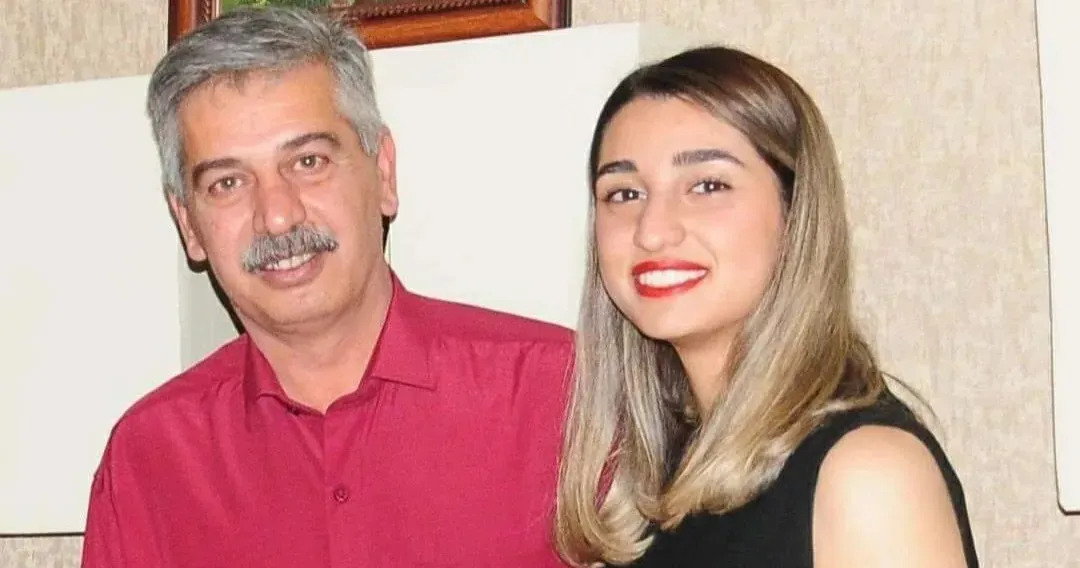 The father of a Baha'i citizen arrested in Shiraz has been hospitalized after suffering a heart attack in the course of the raid, local sources have reported.
Shaghayegh Khaneh Zarin was arrested at home by Ministry of Intelligence agents at 8am on Sunday. Her father Farzad was on the way out of the house at the time and collided with the agents in the street. He was ordered back into the house and, without explanation, looked on as they searched the property and ordered his daughter to prepare to leave.
Sources close to the family said Farzad then began to suffer from chest pains. Officers initially blocked Shaghayeh from calling an ambulance and tried to calm him down themselves, only allowing the call to be placed after it became apparent he needed real medical help. They then forced the family to tidy up the house during the wait.
In front of an assembled crowd of neighbors in the street, Shaghayeh was then taken away to Shiraz Intelligence Detention Center. At the time of writing her father was still in hospital in a grave condition.
At least three Baha'i women were arrested in Shiraz on Sunday. Apart from Shaghayegh Khaneh Zarin, two others have so far been named: Jila Sharafi Nasrabadi, and Negar Ighani. All are being held in the same detention center. The charges against them are currently unknown.
                                                                               _______________________
Three Baha'i Citizens Arrested in Shiraz
Source: www.en-hrana.org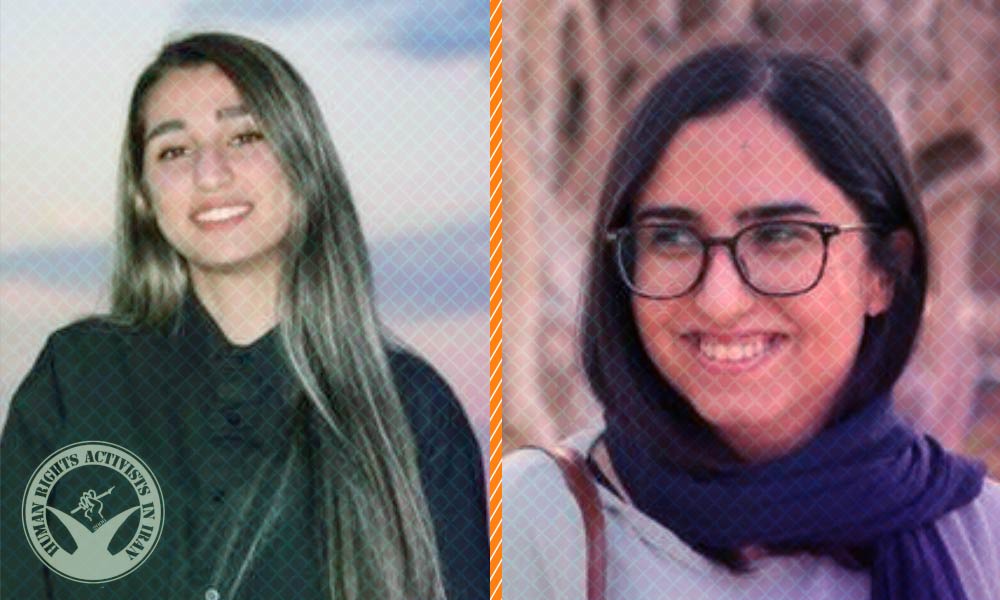 On Sunday, June 26, 2022, three Baha'i citizens, Shaghayegh Khaneh-Zarin, Negar Ighani and Zhila Sharafi Nasrabadi were arrested by security forces in Shiraz and taken to an unidentified location.
According to HRANA, the news agency of Human Rights Activists, on Sunday, June 26, 2022, security forces arrested three Baha'i individuals in Shiraz.
An informed source told HRANA that  Khane-Zarin's father had a heart attack due to stress during  his daughter's arrest and was hospitalized in Shiraz."
The reason for these arrests and the charges are unknown so far.
Also, Negar Iqani was denied entry to the University Entrance Exam of 2019, even though she is an employee of the institution.
Even though Iran's law recognized the right to education indiscriminately for all citizens, the Supreme Council of the Cultural Revolution of Iran bars Baha'is from working at official institutions and participating in higher education.
Freedom of religion is a breach of Article 18 of the Universal Declaration of Human Rights and Article 18 of the International Covenant on Civil and Political Rights. The United Nations Covenant holds that every person has the right to practice religion freely, freedom of converting to a religion, as well as freedom of expression, individually or collectively, openly or secretly.
                                                                  _________________________
Alarm Grows for Baha'i Woman Held in Unknown Location
Saeedeh Khozouei's family dropped off 60 days' worth of medication for her after her disappearance, but were instructed to bring more a fortnight later
Earlier this month, Baha'i woman named Saeedeh Khozouei was arrested by security forces in Tehran and taken to an unknown location. Two weeks on, her family still have no idea where she is. Her son Arsalan Yazdani was yesterday asked for the second time to go to the city's Jomhouri Circle to drop off her medication. 
Khozouei was summoned to Branch 2 of Evin Courthouse on April 11, ostensibly to "answer some questions". But when she got there, she was arrested.
Her son was himself arrested by security forces in a raid on the family home on September 1 last year. He was released on a heavy bail more than 40 dats later; the security forces, he later reported, had mistaken a book in their house for a Baha'i one. 
Despite all their efforts, the family has not been permitted to visit Ms. Khozouei since she was taken away. Writing on his personal Twitter account, Yazdani said the examining magistrate of Branch 2 of Evin Courthouse, a Mr. Haji-Moradi, had promised to speed up the process and arrange for her to meet the prosecutor's assistant.
An hour later, Yazdani writes, his sister received a message from Haji-Moradi: "There is nothing for you here and you should go."
Adding to the family's growing alarm is the fact that the first time they were asked to drop off Ms. Khozouei's medication a few days after her arrest, they had brought 60 days' worth.
"The agent said 'Your mother feels bad, goes to the doctors and asks for medicine'," he wrote. "I told the agent: 'Do you give medicine to anybody who asks for it? If she's feeling so bad why don't you release her?'"
Yazdani's aunt has also been informed that his mother might be held in detention for a long time to come. "We're extremely worried about my mother's health," he wrote. "If anything bad happens to her, the responsibility falls on the shoulders of the examining magistrate who ordered her arrest."
Ms. Khozouei is the niece of Bahram Beyzai, a well-known Iranian film director, and has worked with him as the script supervisor for a number of his movies.
Baha'is are the largest religious minority in Iran. But for no reason other than their faith they are systematically harassed, jailed, alienated, exiled and dispossessed of their assets and properties by the Iranian state. They are also deprived of the right to higher education and of jobs in the government and academia.
                                                               _________________________
Baha'i Groom Returned to Jail Three Days After His Wedding
Source: iranwire.com
Kian Sabeti
He was born in the 1980s, in prison, because his mother was a Baha'i. He was denied a university education because he believed in a religion the rulers of Iran consider "forbidden". He was sent to prison for the first time when he was 23, and he was 32 years old when he married while on a five-day leave of absence.
This is the story of Ardeshir Fanaian, a young Baha'i in Iran who was not even allowed to attend his father's funeral, but still hopes for a future in which nobody is harassed because of their faith.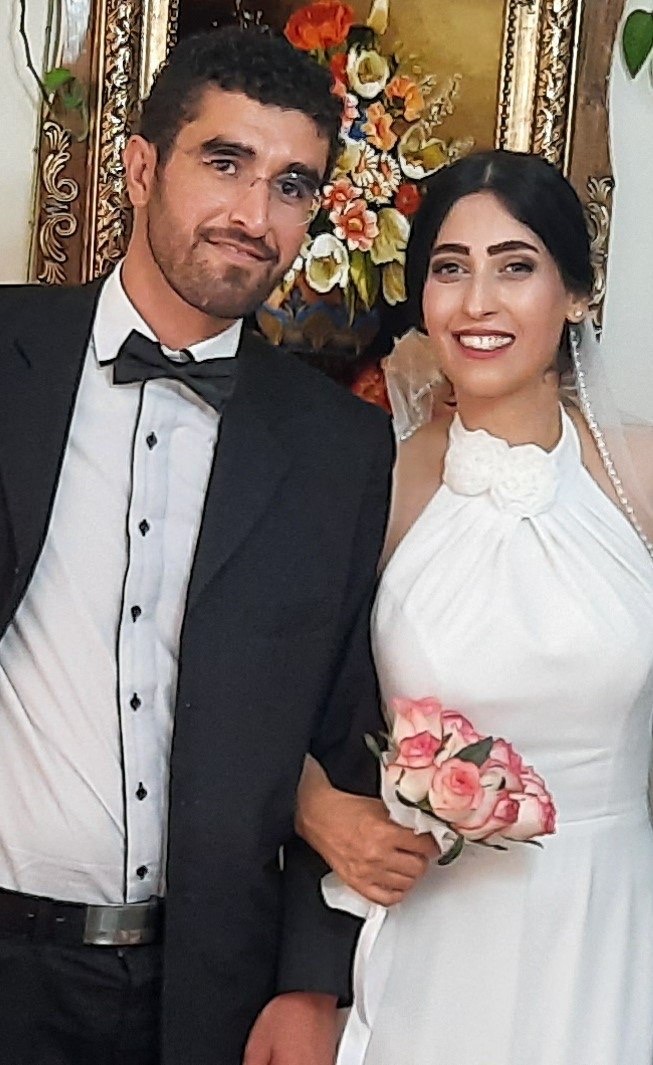 On August 18, after a five-day leave of absence, Ardeshir Fanaian returned to Semnan Prison to serve the remaining 4.5 years of his sentence.
His earlier requests for furlough had all been denied. But finally, because of the coronavirus pandemic, Fanaian was granted this brief taste of freedom from August 13 to 18. During these five days, a pivotal event in his life took place: on August 16, he married his beloved, Golrokh Firouzian.
When the five days were up, the young Baha'i couple asked for just a few more days together. But Semnan's Intelligence Bureau rejected their request and the groom returned to prison.
Born in Prison, Arrested at 23
Fanaian was born on December 9, 1988 in Semnan Prison. His parents were arrested in 1983 on the charge of being members of the Baha'i Community Council of Mehdi Shahr (formerly Sangsar), a city in Semnan province. They, and other arrested Baha'is, were held in Semnan Prison for six months and were then transferred to Tehran's Evin Prison.
Mohammad Ali Fanaian, Ardeshir Fanaian's father, was first sentenced to death but, after three years, he was released from Evin Prison without a specific court ruling. His mother, Rezvanieh Jazbani, was sentenced to death twice but the last court of appeals reduced her sentence to 10 years in prison. After four years, Rezvanieh was transferred back to Semnan Prison.
In early 1989, the government of the Islamic Republic ordered the release of a number of imprisoned Baha'is. After five years in prison, Rezvanieh Jazbani and her three-month-old baby son were free.
Fanaian went through his primary and secondary education in Semnan but, after receiving his high school diploma, he was unable to go to college. Baha'is in Iran have been barred from entering higher education for four decades. This prohibition was passed into law on February 25, 1991, by the Supreme Council of Cultural Revolution. If Baha'is are caught being admitted into universities, they are expelled.
Instead, Fanaian continued his higher education in civil engineering at the underground virtual Baha'i Institute for Higher Education (BIHE) until he was arrested, for the first time, in 2012.
Betrothed Couple Arrested on the Same Day
On the morning of February 15, 2012, agents from Semnan's Intelligence Bureau raided Fanaian's family home, arrested him, ransacked the house and confiscated his computer and all the religious books and pictures that they could find.
On the same day, Golrokh Firouzian, Fanaian's future bride, and her sister Shidrokh were arrested at their home as well. The two sisters were physically injured during their brutal interrogations by Mohammad Reza Hashemian, an agent of the Intelligence Bureau. Their father Hazhir Firouzian lodged a complaint but, as a result, he himself was sentenced to 40 days for "libeling a government agent" and served his sentence in 2013.
Ardeshir Fanaian was released on bail on April 20, 2012. In August of the following year, Semnan's Revolutionary Court tried these three young Baha'is on the charge of "proselytizing Baha'ism". The court sentenced Ardeshir to one year in prison and Golrokh and Shidrokh Firouzian to nine months each.
Three months later, on December 28, 2013, the court of appeal reduced Fanaian's sentence to eight months and those of the two sisters to six months each. Two weeks later, on January 12, 2014, prison agents abruptly arrested Fanaian without a summons at a bank and took him to Semnan Prison to begin serving his sentence.
Six months later, in June 2014, taking into account the two months that he had already been held under arrest, Fanaian was released from prison.
Arrested a Days After Release
Just a few days after his release, Ardeshir was arrested once again by the order of Judge Zamani. As part of his release, he was forced sign a pledge that he would enter compulsory military service. But Semnan Military Draft officials then told his family that the law for arresting absent draftees had been revoked several years earlier, and Fanaian and a number other Baha'is in Semnan had been arrested on the orders of "another authority": meaning the Intelligence Ministry.
In early 2015, Fanaian began his military service. But a few months later, the government included a clause in its budget for the year which levied a fine on draftees who have been absent for more than eight years. These people could pay the fine and in exchange, be exempted from the military service. Fanaian paid up and came back to Semnan.
From Harassment to Arrest – Again
On exiting the military, Fanaian took a few different jobs to make a living. But his main source of income was translation from English. In the years that followed, he was repeatedly threatened on the phone by security agents or by unknown callers. He also received text messages on the same theme, with one reading: We are closer to you than the vein in your neck. Be careful what you do!"
On one occasion a threatening note was thrown through the air vent into his room and, on another occasion, all of his paperwork was stolen from inside his car.
Eventually the threats became a reality. At 7am on April 30, 2019, agents of Semnan's Intelligence Bureau, posing as workers from the water company, rang the doorbell of the Fanaian family home. When Ardeshir's brother opened the door, masked agents rushed inside and made straight for Ardeshir's room to arrest him while he was still asleep. They were at the house for an hour, confiscating Fanaian's personal items, books, pictures, and anything with any connection to the Baha'i faith, before taking Fanaian away.
On the same day in Semnan, two other young Baha'is by the name of Behnam Eskandarian and Yalda Firouzian were also arrested. Ardeshir Fanaian's arrest took place at a time when the family were still in a state of shock over the loss of his mother, Rezvanieh, who had been killed a few months earlier in a traffic collision.
Pushing for the Forced Exile of the Baha'is
An Iranian Baha'i told IranWire that the principal motive behind the Intelligence Bureau's abuse of Ardeshir Fanaian is to force him to leave Semnan. The verdict of the lower court, which sentenced him to two years in exile, appears to confirm this.
"For more than 10 years Semnan has been one of the main centers of harassment against the Baha'is," the source said. "Most of the Baha'is in this city have experienced imprisonment. For the past few years nobody has been conducting any business with us because of the threats of the Intelligence Bureau. Baha'is are eihter unemployed or do temping jobs, or work hidden from public view. Many of the men of the families have to go to neighboring provinces to work. In the past few years, pressures here have forced many Baha'i families, especially the young ones, to migrate to other cities to make a living."
Despite all of these difficulties, Ardeshir Fanaian was among the young Baha'is who had tried to stay on in Semnan. According to a relative, he tried his best to be helpful and spent a good amount of time teaching mathematics and other subjects to local children and adolescents. Although many of their relatives live in Norway and the US, and always encouraged him to emigrate from Iran, he reportedly always answered that he loved his country and preferred to remain in Iran and serve its people.
Losing a Father While Behind Bars
After his last arrest, Fanaian spent 75 days in solitary confinement and was then transferred to Semnan Prison. For several months he was denied the right to receive visits from his family or even speak to them on the phone. The only time that he was allowed to meet them was after his father was taken to hospital.
In early June, Fanaian's father had been hospitalized due to kidney disease. "After the death of his mother, Ardeshir took care of his father," says an acquaintance. "But after he was sent to prison, his father's health had deteriorated. His family called the prison and asked them to allow Ardeshir to visit his father. Intelligence agents took him [to the hospital] twice, under guard."
But on the second visit, Fanaian's father passed away minutes before their arrival. The Intelligence Bureau did not allow him to attend the funeral.
Long-Term Prison Sentences for Young Baha'is
After Fanaian's last arrest, agents of the Intelligence Ministry arrested one of his neighbours and her 15-year-old son, and pressured them into signing a statement against him. Their names are listed in the indictment signed by Reza Zamani, Semnan's assistant prosecutor.
According to this indictment, a copy of which has been seen by IranWire, the three arrested Baha'is were charged with the following crimes: "Membership in an association, known as the deviate Baha'i sect, that acts against the national security of the Islamic Republic (Article 499, Book 5 of the Islamic Penal Code), participation in creating and the management of an illegal group inside the country with the aim of harming national security (Article 498, Book 5 of the Islamic Penal Code) and participation in activities against the sacred system of the Islamic Republic of Iran (Article 500, Book 5 of the Islamic Penal Code."
Evidence cited to support these charges included their setting up "consulting groups" among the members through two WhatsApp groups, nicknamed "Pears" and "Amazon Jungle Travelers". The indictment also said they had been organizing and holding memorial services for the Baha'is executed in the 1980s, and had obtained "a printer set up to reproduce pamphlets."
Based on this shoddy indictment, Branch 1 of Semnan Revolutionary Court, presided over by Judge Mohammad Ali Rostami, sentenced Ardeshir Fanaian, the prime defendant in the case, to 10 years in prison. And because of his previous record, the judge also sentenced him to one year of exile, to be spent in the arid city of Khash in the southeastern province of Sistan and Baluchistan.
In late 2019, a month after the trial at the lower court, Branch 2 of Semnan Revolutionary Court of Appeal, presided by Judge Mohammad Ghasem Einolkamali, took up the case of these three young Baha'is. Here Fanaian's sentence was reduced to six years.
Ardeshir Fanaian and his co-defendant Behnam Eskandarian have been in prison for more than 15 months. Their families say that the morale of these two young men is high and they still hope for a future in which nobody is punished for their beliefs, and no young groom has to spend his honeymoon inside a prison cell.
Baha'i Researcher and Author, Touraj Amini, Sentenced to Prison and Exile
Source: www.hra-news.org
Translation by Iran Press Watch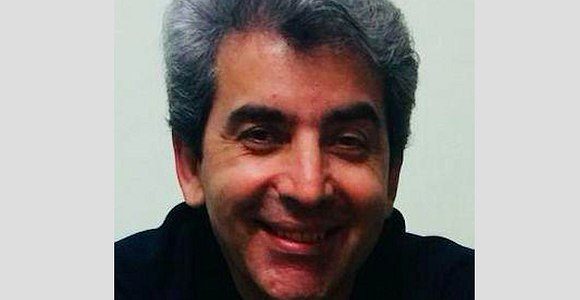 According to the HRANA, the news arm of the Human Rights Activists in Iran, Touraj Amini, a Baha'i researcher and author living in Karaj, was sentenced by the Karaj Revolutionary Court to one year imprisonment and two years in exile.
HRANA News Agency – Touraj Amini, a Baha'i researcher and author living in Karaj, was sentenced by the Karaj Revolutionary Court to one year imprisonment and two years in exile. Mr. Amini's home was searched by the security forces last summer during which a number of his personal belongings, including Mr. Amini's books and notes and his personal laptop, were confiscated and taken away.
According to the verdict issued by the Karaj Revolutionary Court, Mr. Amini was sentenced to one year in prison and two years in exile on charges of "propaganda against the regime."
A source close to the Baha'i family told HRANA: "Mr. Amini has been charged with "propaganda against the regime", while his published books and historical articles are about the Qajar and Pahlavi eras.
Mr. Amini's home was searched by the security forces on August 5, 2019, during which a number of his personal belongings, including Mr. Amini's books and notes and his personal laptop, were confiscated and taken away. Following this action, the officers told Mr. Amini that he would be summoned to the Karaj Intelligence Office in the coming days.
The Baha'i citizen is said to have also been detained for some time, previously in March of 2008, by the security forces.
Among Touraj Amini's works are the books "Interaction of Religious Minorities and the Iranian Constitutional Revolution", "Iranian Baha'i Documents" (5 volumes), "Documents from Contemporary Iranian Zoroastrians" and "Hidden Resurrection: Reopening towards the Babi and Baha'i Religions and their relationship with the Intellectual Movement in Iran".
Baha'i citizens in Iran are deprived of liberties of practicing their religious beliefs. This systematic deprivation of liberty occurs while Article 18 of the Universal Declaration of Human Rights and Article 18 of the International Covenant on Civil and Political Rights entitle any individual to freedom of religion and belief and also freedom to express it individually or collectively and in public or in private.
According to unofficial sources, there are more than 300,000 Baha'is in Iran, but Iran's constitution only recognizes Islam, Christianity, Judaism, and Zoroastrianism and does not recognize the Baha'i faith. For this reason, the rights of Baha'is in Iran have been systematically violated over past years.
Iran's regime escalates violent persecution of Baha'is
At least 77 Baha'is face a new wave repression for their religious faith
Bahai Gardens 390
(photo credit: Reuters)
The Islamic Republic of
Iran
has ignited a new round of violent persecution toward the
Baha'i
minority religious group over the last month.
Bahá'í World News Service (BWNS) reported on June 11 that "Baha'is in the provinces of Fars, South Khorasan, Mazandaran, Isfahan, Alborz, Kerman, Kermanshah, and Yazd have been arrested, summoned to court, tried, sentenced to jail or imprisoned, all under baseless accusations."
BWNS said the violence targeting Baha'is is taking place "for no reason other than a deep-seated antagonism to the Baha'i faith and its teachings, which emphasize truthfulness, equality of men and women, safeguarding the rights of all people, and the harmony of science and religion."
"The recent incidents have placed great pressures on so many families," said Bani Dugal, the Principal Representative of the Baha'i International Community, told the BWNS. "Subjecting them to the constant threat of imprisonment under these circumstances and emotional anguish associated with it is yet another attempt to place greater strain on the community. And to do all this during a health crisis, at an alarmingly escalated rate without any justification whatsoever, is extremely cruel and outrageous."
According to the BWNS article, "the Iranian authorities have escalated their persecution of the Baha'is, targeting at least 77 individuals across the country in recent weeks despite the present health crisis afflicting the country."
Iran's regime has engaged in widespread persecution of the Baha'i community before, including the murder of members of the Baha'i religion, since the founding of the Islamic Republic of Iran in 1979. Tehran enforces state-sponsored discrimination against the Baha'i community in all walks of life.
The 2019 United States Commission on International Religious Freedom report said the Iranian regime continued the harassment, interrogation and detention of Baha'i followers as well as judicial trials against at least 65 of them within a six-month period.

HRANA, May 26, 2020. –
Amin Dhulfaqaari (امین ذوالفقاری), a Bahai from Yazd, was arrested on May 21 and taken to the city's prison. It is reported that the detention order specified that he would be held for one month, He is expected to be charged with teaching the Bahai Faith.
Birjand: Nine Baha'is Have Been Sentenced to a Total of 51 Years and Eight Months in Prison
Source: www.hra-news.org
Translation by Iran Press Watch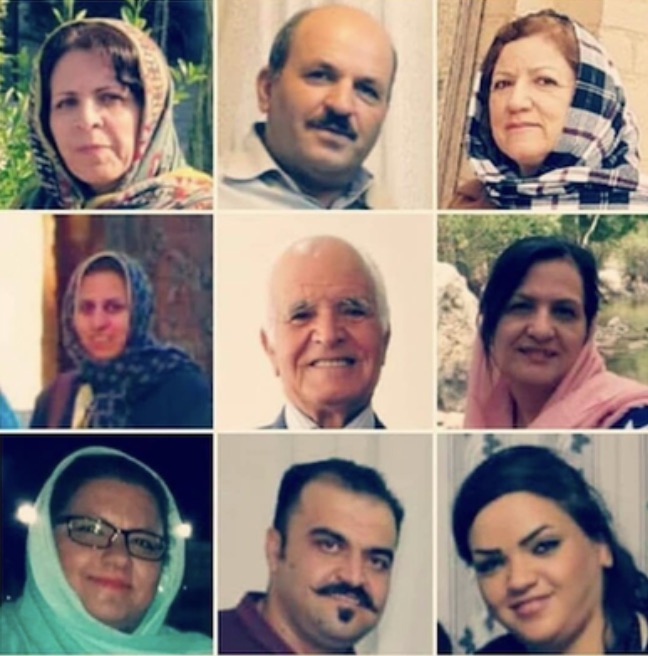 HRANA – Nine Baha'i citizens ‒ Rahmatollah Deimi, Atieh Salehi, Ataollah Malaki, Farzaneh Deimi, Nasrin Ghadiri, Banafsheh Mokhtari, Arezoo Mohammadi, Saeed Malaki and Roya Malaki ‒ have been sentenced to a total of 51 years and 8 months in prison by the Birjand Revolutionary Court. The trials of these citizens were held on April 20th of this year.
According to the HRANA, the news agency of Human Rights Activists in Iran, nine Baha'i citizens were sentenced by the Birjand Revolutionary Court to a total of 51 years and eight months in prison.
According to the verdict issued by Branch 2 of the Birjand Revolutionary Court, presided over by Judge Hojjat Nabavi, Birjand Baha'is Atieh Salehi, Ataollah Maleki, Farzaneh Deimi, Nasrin Ghadiri, Banafsheh Mokhtari, Arezoo Mohammadi, Saeed Malaki and Roya Malaki were each sentenced to six years in prison. Rahmatollah Deimi was sentenced to three years and eight months in prison, due to his advanced age.
The charges against these citizens are "membership in the illegal and anti-security deviant Baha'i sect, and propaganda in favor of the Baha'i group as an organization opposed to the sacred Islamic Republic."
A well-informed source told HRANA: "During the celebrations of the bicentenary of the birth of Baha'u'llah, the Prophet of the Baha'i Faith, the arrest of Baha'is and the sealing of their businesses took place in various cities in Iran. The city of Birjand was also not spared these attacks on the Baha'i community; in mid-October 2017, the security forces of Birjand entered the homes of these individuals, searched their homes, and confiscated a number of their personal belongings. These citizens were summoned to court again in 2019 for interrogation, and their trial date was set for April 20, 2020. However, on April 21 2020, they were notified via text that their verdicts had already been issued; on April 22, their sentences were made accessible via the court website."
Regarding the circumstances of Nasrin Ghadiri, who is not from Birjand, this informed source told HRANA: "Ms. Qadiri is 60 years old and is a resident of Mashhad. She only resided in Birjand temporarily, from 2014 to 2017, to care for her sick father. In October 2017 when, on orders of the Intelligence Ministry, security forces went to the homes of these Baha'is, Ms. Ghadiri was in Mashhad and not in Birjand; nevertheless, security forces went to her father's home in Birjand and confiscated her personal belongings anyway. She had been previously arrested and imprisoned in 1983 and  2010.
Nine other Baha'i citizens were also tried in Birjand in July 2019 and sentenced to prison. They were sent to prison in December 2020 to serve their sentences, and are currently on leave as a result of the outbreak of the novel coronavirus in the country.
Baha'i citizens of Iran are systematically deprived of religious freedoms, while according to Article 18 of the Universal Declaration of Human Rights and Article 18 of the International Covenant on Civil and Political Rights, to which Iran is a signatory, all people are entitled to freedom of religion, belief, and changes thereof, as well as the right to express and practice those beliefs as individuals or collectives, in public or in private.
Though unofficial, sources estimate the Baha'i population of Iran at more than 300,000. Iran's Constitution officially recognizes only Islam, Christianity, Judaism, and Zoroastrianism, and does not acknowledge the Baha'i faith as an official religion. As a result, the rights of Baha'is in Iran are systematically violated.
Baha'i Carpenter Arrested, Charged with Building Boxes for Prayer Books
Source: iranwire.com
Kian Sabeti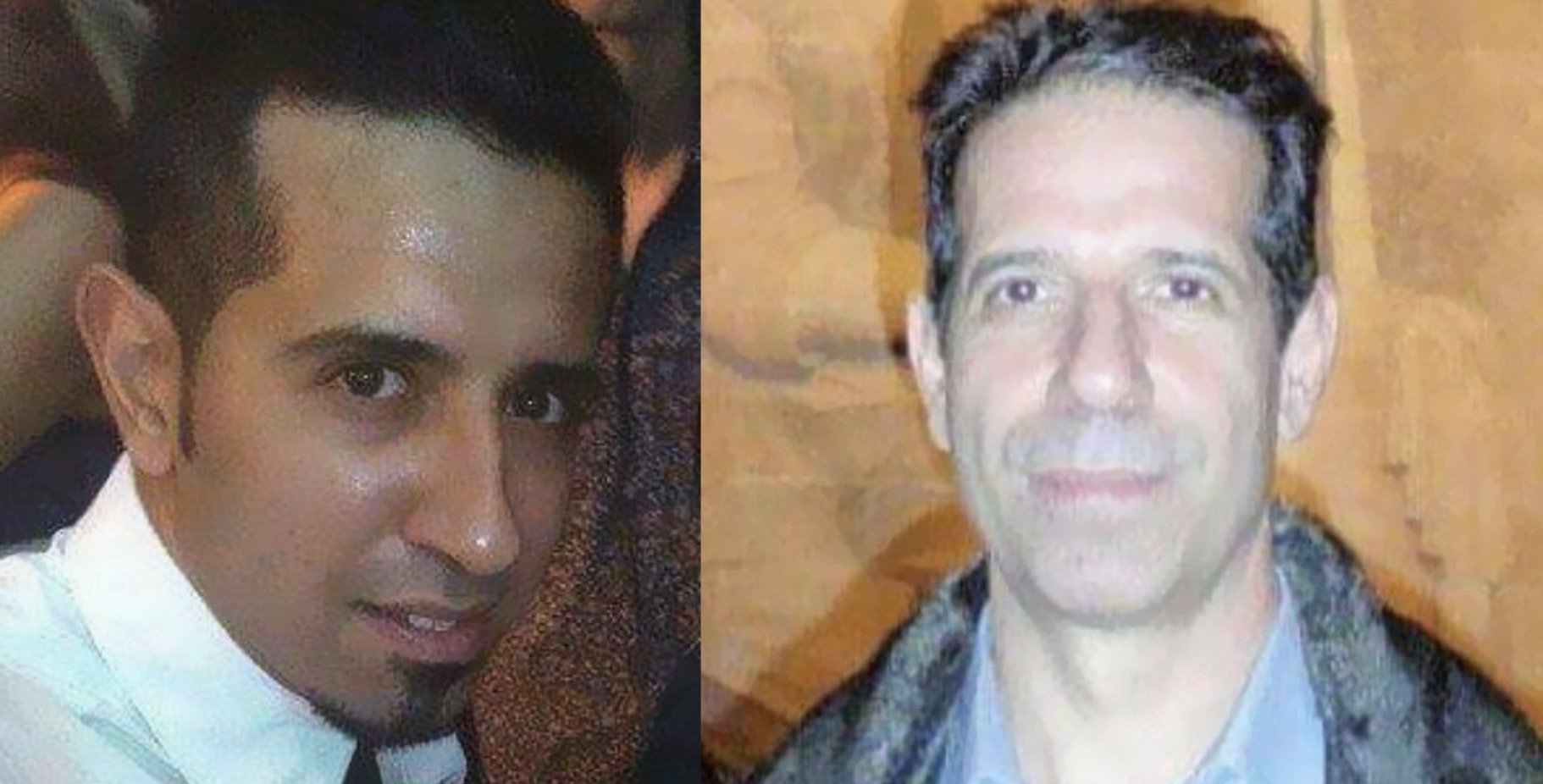 On May 2, at around 4pm, three groups of officers identifying themselves as Revolutionary Guards intelligence agents, simultaneously raided the homes of three Baha'i citizens living in
Isfahan
. The Baha'is were Shahzad Hosseini, Shayan Hosseini, son of Shahzad, and Shahzad's mother. Shayan Hosseini was arrested and the father, Shahzad Hosseini, has been summoned to report to
Isfahan
's Revolutionary Guards Intelligence Office tomorrow, May 6.A relative of Hosseini's family told IranWire: "Officers first went to Ms. Hosseini's house [Shahzad Hosseini's mother] and introduced themselves as agents of the National Headquarters for Fighting Coronavirus through the intercom. The 70-year-old woman, who recently underwent leg surgery and was unable to walk properly, was reluctant to open the door, but the officers brutally entered the house by breaking a window and tearing off the window's' mosquito net. The old woman was upset when she saw the officers in her house and fell to the ground – half-losing consciousness. Shahzad was informed and immediately went to his mother's home. Once there, his wife called him and said that other officers were simultaneously inspecting his house and his son Shayan's homes. The officers left the Ms. Hosseni's home after seizing some of her personal and religious property, but before leaving, they asked Shahzad to report to the office of the Isfahan's Revolutionary Guards Intelligence Office on Wednesday."
After the inspections, neighbors of Shahzad Hosseini's place of business called him, saying that the alarm of his carpentry workshop had been tripped. Shahzad and his son Shayan went to the workshop to find that the locks broken – though no one had been able to open the doors. The neighbors said that unidentified individuals climbed the wall of the workshop, smashed the interior doors and locks, and removed the workshop tools.
Another source person close to Hosseini's family said that, on the same night, Shahzad reported the break-in and theft to the police, where officers took notes and used the footage from the workshop security cameras to identify the car registration and to issued an arrest warrant for the suspected perpetrators.
The next day, May 4, at around 2pm, when Shayan returned to the workshop to replace the locks, Revolutionary Guards agents raided the premises, confiscating equipment including wood logs, boards, columns, and all other articles, moving them to cars parked in front of the workshop. Shayan Hosseini was then arrested and transferred to an unknown location. Shayan's car was also confiscated by the agents.
According to a close relative of Shayan, during the raids of each home and the workshop, agents were looking for small wooden boxes that the Hosseini used to store prayer books. During the inspection of Shayan's house, agents found two or three small boxes, and then threatened Shayan to force him to hand over other boxes.
During the past two weeks, pressure on Baha'i citizens has increased significantly in Iran. The trial of fourteen Baha'is was held in the cities of Birjand and Mashhad. Four Baha'is living in Karaj were sentenced to prison. A number of Baha'i prisoners are still denied leave from prison, as part of the temporary releases resulting from the coronavirus epidemic, and are at risk of contracting the virus.
"The Baha'i International Community urges Iran to immediately release the remaining Baha'is in prison," said Bani Dugal, a senior representative of the Baha'i International Community at the United Nations, in recent remarks. "These people are innocent and should never have been imprisoned. Their current imprisonment is not only unfair, it has put their lives in serious danger." Dugal insisted that "all prisoners of conscience should be released now."
The World awaits the release of Hamed bin Haydara, still being held!

This unjust government locks up the innocent,denies education to Baha'i students and perversely denies burial to their dead.
Baha'i Citizen Farhood Eshtiyagh Incarcerated.
Bahai Educational Programme targeted in Raids!
Baha'i Citizen Behzad Zabihi Arrested in Sari
More than 332 people arrested in Iran in February!
Iqan Shahidi and Sama Noorani, two Baha'i university students deprived of the right to enroll at University,
arrested; and the home of Dorsa Sobhan, a Women's Rights activist, attacked.
Another Cemetery Desecrated in Iran
Baha'i Musician arrested in Yazd
The Islamic Clergy intend to auction off a Baha'i Cemetery in Iran.
Seven Baha'i in Iran to be tried for crimes they did not commit.
Shiraz Baha'is Innocence Confirmed!

Arsonists in Iran target Baha'i homes, vehicles
Innocent Baha'is targeted
Three Baha'is working on a humanitarian project imprisioned in Iran.
(see Baha'i Headlines for complete story).
From Left: Haleh Rouhi, Raha Sabet, Sasan Taqva

Other Baha'i prisoners held on false charges in Iran (among many many others) since 1989
(or have been secretly murdered in prison):
Mr. Kayvan Khalajabadi – Evin prison
Mr. Behnam Misaqi – Evin prison
Mr. Musa Talebi – Evin prison since 1979
 Thanks for visiting!
Please if you are in Iran send me any pictures or news you may have. I will post it.